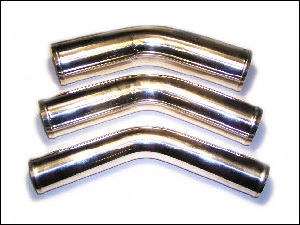 45° Aluminum bends

Manufactured from extruded round tube with a wall thickness of 1.5mm.

Chemical composition and mechanical properties are those associated with 6063/H9 aluminum alloy.

50-76mm have rolled swaged beads to prevent the hose to come off during high pressure and/or heavily movement.

The bends are polished for best looks.

The dimensions are adjusted to our silicon hoses!

Please note that we sell our last stock and that the quantity therefore can vary. You find each quantity in stock within the product info.